Lesmills bodypump
One of the most popular workouts in which bar and discs are used to tone and define your muscle mass. With a choreography of more than 850 repetitions in just one hour, accompanied by the best music, you will work all the muscle groups. Suitable for everyone, since it is you who decides what weights you train with.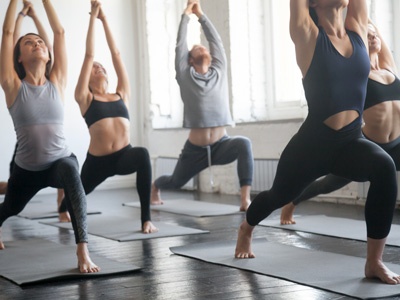 Lesmills bodybalance
You will improve your posture, work on your strength, balance, body awareness, flexibility and relaxation through Yoga, Tai Chi and Pilates exercises. Music will help to guide you during all movements. Give yourself some care. What are you waiting for?
VG cross trainning
This is an outdoor program to develop strength, power and cardiovascular endurance. It is based on functional exercises performed at very high intensity. There are no routines or excuses, every day your training will be different. Watch out, it's a highly addictive workout!
VG open cross
For advanced Cross Training users. Tuesday: Conditioning, working on improving endurance and aerobic power. Friday: Olympic, improving weightlifting technique and increasing strength. Go for it, athletes!
vgworx
This is a discipline focused on working the CORE and the main muscles (abs, back and glutes). Training that strengthens, tones and improves functional strength. It is performed using resistance bands and discs to increase the intensity of the training.
VG pilates
Pilates is performed with awareness of your body movement and by maintaining control of the power-house (abdominal and lumbar support) to the extremities at all times. You gain many benefits with Pilates such as preventing back pain, gaining flexibility and strengthening your CORE. Rediscover your body and improve your health.
VG full body
High intensity functional training. You will work through various exercises using the weight of your own body and with different equipment such as weights and the Rip60. A very dynamic class which will make you feel that you've worked all the muscle groups.
VG step
A choreographed and fun class that offers a combination of aerobic exercises on a STEP in which music takes centre stage. It improves coordination and your cardiovascular level. If you want to have fun while dancing on the STEP, this is the class for you!
VG stretching
These are techniques based on increasing mobility. An activity that consists of performing different types of stretching exercises which will relieve muscle and joint pain, prevent possible injuries, improve posture, train flexibility and improve your performance. Remember: Stretching is as important as training!
VG gac
Intense sessions with focused training on Glutes, Abdomen and (C) Legs. Improved muscle tone and strength.
VG zumba
Do you want to have fun and raise your heart rate through dancing? This is the class for you.
VG cycling
Cardiovascular training session on a stationary bike (Schwinn). The instructor will guide you over the terrain you'll be working on (mountain, flat, intervals, descents, etc.). With music that will set the pedalling rhythm and, at the same time, the intensity at which we want to work. Do you want to keep the training going? You can do so by downloading our Verbagym APP.
VG Shambada
A great fun dance session, combining the different styles of sh'bam, zumba and batuka.
VG yoga
You work on your body while relaxing your mind. The practice of Yoga has multiple benefits; it reduces anxiety and stress and strengthens your body while improving flexibility.
VG Postural
We work on joint and muscle mobility to correct and improve postural control with low intensity exercises designed for all ages. The benefits are: increased muscle and joint elasticity, improved posture, increased muscle tone, fluidity in movement, agility, among many others.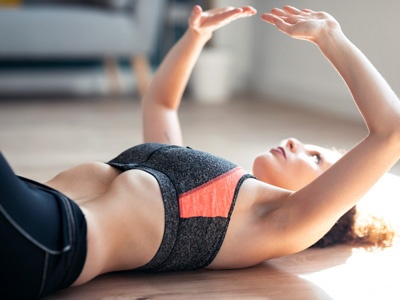 VG hipopresivos
The practice of postural and respiratory exercises through which we work the abdominal suport. It will reduce the pressure in the 3 cavities (Thoracic, Abdominal and Pelvic), thus improving posture, reducing the circumference of the waist, postpartum recovery, prevention and improvement of urinary incontinence, and it will prevent the onset of hernias and injuries in the lumbar area. You'll strengthen the respiratory muscles and you'll notice a big improvement in sports performance. Don't just think about it, come and try a free session to discover the infinite benefits of hypopressive exercises for yourself.
VG reformer cadillac
The Reformer is one of the exercise machines and is made up of a system of springs and pulleys that provide resistance when performing directed movements. Designed by Joseph Pilates with the aim of incorporating the technique used in Pilates floor exercises (basic Pilates) to give a more intense training. You can come and try it for € 0 and discover all its benefits. You won't be disappointed! Come and give it a go!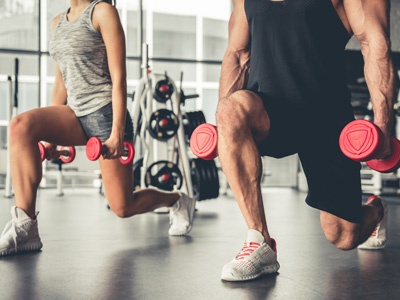 PERSONAL TRAINER
Our personal trainers will design a training plan tailored to your needs and goals.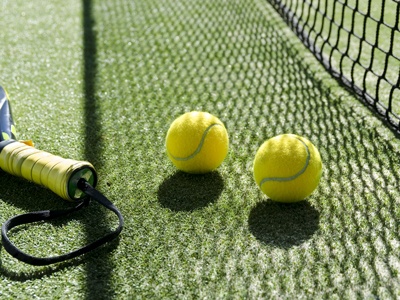 PADEL
You can hire our padel tennis court and rent balls and rackets, or you can begin learning or improve your technique with a padel tennis teacher.
At Verbagym, we believe that health and wellness are a priority. If you want to improve your life surrounded by the best professionals and commit to a healthy and active life, contact us and we will advise you.